Welcome to The No-Fault Zone® Global Network!
Come play with us in the Global No-Fault Zone, in any or all of the following ways:

1. No-Fault Zone Game translations.
2. Our Conflict Game video, in English and with Chinese sub-titles.
3. Feeling & Need card decks in 20 languages.
4. Our books in translation.
1. Download free Feelings & Needs card decks in many languages.
Put Feelings and Needs vocabulary in your hands to help you connect with yourself and other people.
These Feelings and Needs card decks are illustrated by Marty Mellein, colored by Bo Sørensen, and developed in collaboration with Kirsten Kristensen. See Kirsten's videos of teachers and students using our picture card decks in Denmark (English subtitles) by clicking here. Our picture cards are being translated into many languages. If you'd like to see them translated in a language that you don't see here, write to us at contact@thenofaultzone.com.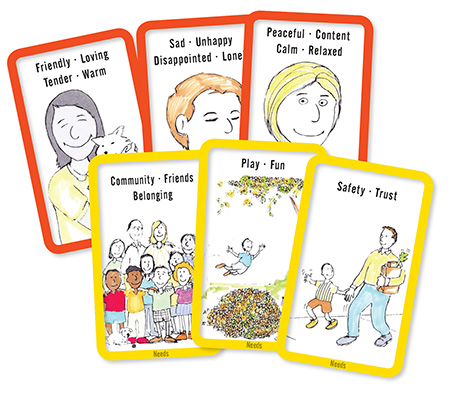 Your donations support us in making these cards, and help make these cards available to those who cannot contribute financially. Please donate what you can. You will be redirected to this page for the "free download."
Click below to download print-ready PDF files:
2. Play the No-Fault Zone® Game.
Go here to see our No-Fault Zone Game in English. If you would like to see The Game translated into another language, send us an email at contact@thenofaultzone.com.
Go here to see our books in English. Our books have also been translated into these languages (click on the images to visit the publishers' websites):
| | | |
| --- | --- | --- |
| | | |
| | | |
| | | |
If you would like to see our books translated into another language contact Denise Gibson.
We love to facilitate workshops and trainings. If you'd like to organize a workshop in your area, write to us at contact@thenofaultzone.com.